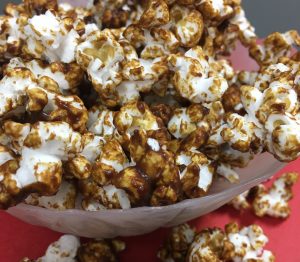 ½ cup unpopped popcorn
¼ cup peanut butter (can substitute with almond butter)
1/3 cup molasses
¼ tsp salt
Preheat oven to 200 degrees F.
In a hot air popper, pop the ½ cup of popcorn kernels
Add to a saucepan the peanut butter, molasses, salt, and stir well.
Bring "caramel" to a boil for about 15-20 seconds, stirring constantly.
Immediately pour over popped corn and stir well to cover all the popcorn.
Bake for 45 minutes.
When cool, store in an airtight container.