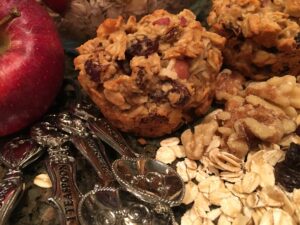 Liquid Ingredients
1/2 cup applesauce
1/4 cup oil
1 tsp salt
1 TBSP vanilla
1/4 cup water
1/4 cup honey
Dry Ingredients
1 1/2 cup rolled oats
1/2 cup flour
1 TBSP cornstarch
1 TBSP baking powder
1/8 tsp coriander
1 cup raisins
1 apple diced
1/4 cup nuts
1/2 cup shredded coconut
PUTTING IT ALL TOGETHER
Preheat oven to 375 degrees.
Put the liquid ingredients into a medium bowl and mix well.
In a separate bowl, measure the dry ingredients and stir together well.
Now, add the dry ingredients to the liquid mixture.
Take a mixing spoon and stir both the liquid and dry ingredients together.
When thoroughly mixed, spoon into greased muffin tins, or into an 8×8 casserole dish.
Bake in preheated oven for 25 minutes.
*These delicious oat muffins are a little more dense than typical muffins.