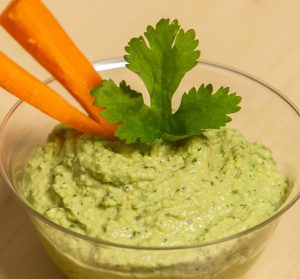 1 can chickpeas, 15oz (liquid reserved)
2 tbsp sesame tahini
¼ tsp salt
2 tbsp lemon juice
1 clove garlic
¼ cup water or reserved liquid from canned chickpeas
1 cup cilantro
Directions
You will be using the blender for this recipe, so set it up on the counter.
1—Drain liquid from the can of chickpeas and set aside
2—Add chickpeas to the blender.
3—Add the remaining ingredients to the blender and blend until creamy smooth.
If it is too thick, add a little water and blend again.
Pour into a nice dish and sprinkle with a little paprika and garnish with some sprigs of cilantro.