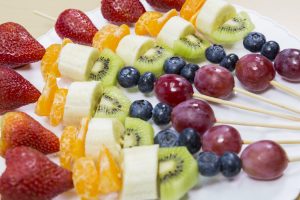 Ingredients you will need:
Red fruit: Cherries, Strawberries, Watermelon, Raspberry or Apple
Orange fruit: Papaya, Orange, Cantaloupe, or Persimmon
Yellow fruit: Pineapple, Banana, Mango, or Peach
Green fruit: Grapes, Kiwi, Honeydew melon, Pear, or Apple
Blue fruit: Blueberries, or Blackberries
Purple fruit: Grapes, Plums, or Figs
Wooden skewers
Directions:
First, wash the fruit
Then cut fruit into 1 inch (2 ½ cm) chunks, although leave smaller fruit such as berries or grapes whole
Next, slide fruit onto a skewer in rainbow order
You may choose to eat plain or dip into pear cream or yogurt.
Enjoy!
Note:
If there are any left over, put them in a bag or container and freeze. Pull them out on a hot day and enjoy a natural frozen fruit treat!