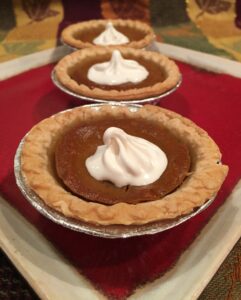 Pumpkin Pie
1 15oz can pumpkin
3/4 cup coconut milk
1/2 cup warm water
½ cup pitted dates*
1/3 cup honey
¼ cup cornstarch
1 tsp vanilla
1 TBSP molasses
½ tsp coriander
½ tsp salt
*Before you begin, start soaking dates in the warm water.
Preheat oven to 350 degrees F
Add all ingredients to blender jar—leaving the dates till very last.
Blend until smooth.
Pour into an unbaked pie crust and bake for 50 minutes.
To prevent cracks in the top of the pie, leave the pie in the oven with the oven door slightly open.