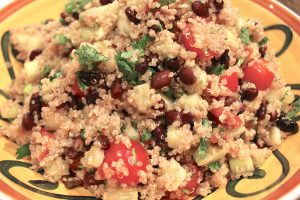 3 cups cooked quinoa*
1 diced avocado (diced)
1 15 oz can black beans (drained and rinsed)
1 medium cucumber (diced)
¾  cup grape tomatoes (cut in half)
½ cup cilantro (chopped)
½ cup green onions (sliced)
½ cup salsa
Cook the quinoa then cool to room temperature.
Add the remaining ingredients to the cooled quinoa and mix.
*How to cook the quinoa
2 cups water
1 tsp salt
½ tsp cumin
2 tsp onion powder
1 cup quinoa
Bring water and seasonings to a boil.
Add quinoa, stir, cover, and reduce heat to low and simmer for 25-30 minutes.