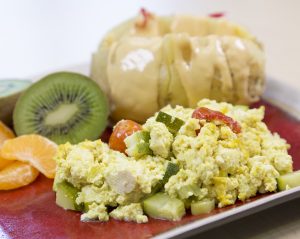 1lb tofu—drained and crumbled
2 tsp soy sauce
1 tbsp chicken-style seasoning*
¼ tsp turmeric
2 cloves garlic—crushed
½ cup zucchini—diced
1 cup fresh spinach—chopped
2 green onions—chopped
Drain and pat tofu block dry.
Crumble tofu and put into a nonstick pan
Add soy sauce, turmeric, garlic, and chicken-style seasoning.
Cook on medium high for about 10 minutes
Add zucchini then cook for another 5 minutes
Then add the green onions, spinach, and tomatoes and cook for one final minute.
Optional Cooking Method
Mix all ingredients together
Bake uncovered at 350F for 45 minutes in a lightly oiled casserole dish.
NOTE:
*I like to make my own chicken-style seasoning, that way I always have it available.  You can find a recipe for it under the Misc. recipe tab.
Adapted from Seven Secrets Cookbook